Welcome!
Thank you for visiting my page. Here you will find help, advice and product reviews to help curb your anxiety. I truly hope this information helps you.
Actually, I am sure that it will help you. It is indeed possible to live a life completely free of panic attacks. Personally, I'm a great example of that: I was suffering from panic attacks and severe anxiety for decades, but now have lived without having a single panic attack for almost a decade. I don't need any medication now, even I certainly have tried them all, from Valium to Prozac, the latter of which I took for 12 years.
I want to show you that the ways to stop panic attacks without medication have never been better than they are today. There are several different methods to treat those symptoms – without medication.
Many people have to use dangerous and potentially addictive medications to control their symptoms. These medications have a serious risk of dependency, and many people also build up a tolerance to them.
In any case, medication can't be a long-term solution, because of the potential for addiction, the side effects, and the fact that you would have to take larger and larger doses to keep symptoms under control as time goes on.
Learning to control your symptoms before they spiral out of control is crucial. If you allow your symptoms to get out of control, it will grow increasingly harder to rein them in.
This site is dedicated to provide proven and effective natural anxiety relief to curb your panic attacks and anxiety. From holistic and scientifically proven programs to diet plans, I will give the best and the most honest information available, so that you can find your way to freer, more fulfilling life.
You can find my other, popular blog about simple low-carb, sugar-free, gluten-free recipes with 5 ingredients or less here. Also the Facebook page of the blog has over 700,000 followers. I recently started another blog about the keto-vegan diet, you might want to check that as well.
I've also written many cookbooks and a Finnish printed book about ketosis (the title is "Healing Ketosis — Get Healthy with Sugar-Free Gluten-Free Diet").
That is, ketogenic diet is how I curb my anxiety and keep panic attacks away.
Find YOUR Way to Curb Anxiety!
To your health and success,
Elviira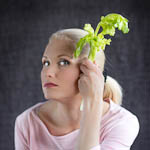 P.S. Some of the links in this blog are affiliate links to help me compensate the time and money I spend on this blog. The products I recommend are always used by me personally and they are the best ones available on my opinion. If I review a product, I always purchase it first myself to avoid any conflict of interest. The opinions on this blog are always my personal opinions. If you purchase products through my links, you won't have to pay more for those products, just the opposite: I've found the best deals so that you can save pure money if you use my links.